A few Parish Councils still employ mole killers in an attempt to keep their village greens or other green swards free of 'unsightly' molehills. Is this acceptable? Is it even effective? Let's examine the issue: in general, but also with a focus on Bredfield.
There are six good reasons to stop trapping and killing moles.
It is cruel. We won't go into gruesome details of animal suffering here, but clearly killing moles is cruel.  Even if claimed as painless, it usually isn't, and it can rob young pups of their parents, causing them to die of starvation.
It is ecologically hostile. Anyone who has watched a recent nature programme on TV, or read a newspaper, should know that nature is in crisis – in Britain and elsewhere. We ought to be taking steps to conserve wildlife not kill it.
It is contradictory.  Here in Bredfield, a grant was awarded by East Suffolk Council to begin a wildlife-friendly village project. The project has the support of the Parish Council, in large part because it is consistent with statements made in the Neighbourhood Plan. Our local parish magazine contains a requested monthly feature on local nature and nature conservation. Killing wildlife in a village that is striving to be wildlife-friendly would be contradictory to say the least!
It is anachronistic. Go to Kew Gardens, or any National Trust site, or any grounds owned by the Royal Horticultural Society today, and you will see that areas once tightly mowed, where moles would have been 'controlled', have been given over to more wildlife-friendly areas. The 'mole killer' is becoming a figure of history.
It is unnecessary.  Moles do not spread disease. They are not eating grain from our silos. They are not 'vermin'. Moles can be beneficial, preying on many harmful insect larvae such as cockchafers and carrot fly, while tunnels help drain and aerate heavy soils. Moles are beloved characters in children's books. They just sometimes stray onto our grassy patches and create a few molehills. Molehills that have caused concern in Bredfield were on an area that was rarely, if ever, used for recreational purposes. Mountains can be made out of the molehills!
It is ineffective. Moles are solitary creatures. When they find an area to occupy, they create their tunnels and keep all other moles out. If you kill a mole in its area, what happens? Of course, another mole moves in and creates more molehills! And so on, and so on. The mole killer doesn't solve your problem; he will have to keep coming back for more work. Moreover, once the occupying mole has made his territorial tunnels he doesn't keep making more and more molehills. With the exception of mating time, the creation of molehills will decrease – unless you kill the mole and a new one moves in.
Cruel, ecologically hostile, contradictory, anachronistic, unnecessary and ineffective. Six good reasons to stop mole killing.
"Since moles are territorial, removing one from a suitable habitat will leave it open to re-colonisation by another and the incomer is likely to do more digging, forming more molehills. The effectiveness of most control methods are questionable, as moles often shut up a tunnel that contains a trap or deterrent and tunnel round it, making more hills. If undisturbed, moles are less likely to dig new tunnels, so why not try and live with them and remove molehills as they appear; you can use the fine soil on the garden."
Montgomery Wildlife Trust
"Moles don't feed on plants, they are carnivorous feeding on invertebrates that fall into their system of tunnels. Any plant damage they cause is incidental to their lifestyle. Molehills on lawns can be removed before mowing."
The Royal Horticultural Society
However, even if these starting principles are accepted, it may remain that some people would still like to have an area neatly mown. Then, concern is sometimes aired that the molehills would damage the mower. Again, we are not facing some huge technological obstacle here.  Derek Walduck from Green Snape has said that there is no mole trapping and killing on their village green – which is a well-used village green, with seats and all.  When asked about molehills damaging the mower, he said that if they do have a molehill, the guy who mows just spreads it out with his boot, picks up any stones, and gets on with it. No problem! With the likelihood of hot dry summers in future years, it would also make great sense to raise the setting on the mower and not cut the grass too tightly. If not, you'll end up with a bald, grassless village green.
OK, even after deciding a) to stop killing moles and b) to adjust methods of mowing, if molehills are still considered a problem, then perhaps some other tactics could be applied. Some people recommend sonic deterrents. These work by creating subterranean noise and vibrations which, basically, annoy the mole so much that he moves on. Sonic deterrents are spikes that go into ground (and can be removed and replaced when mowing takes place). You can have battery operated or solar power-driven versions. There is a large range of models, but most are fairly cheap (£30-40 for a set). They are said to be effective if used correctly.  However, we can surely doubt that they are 100% effective – just somewhat more effective than killing the moles (for the reasons stated), and probably about as effective as just leaving the moles be. There are probably lots of ways of dealing with the perceived problem of molehills. On a small area of grass, such as the Bredfield Village Green, one or more people could volunteer to monitor the green and remove to molehills if and when they appear. Most of the time, there would be nothing for such volunteers to do. When there is, a spade would easily remove the molehills. A gardener might like the lovely topsoil produced! Loads of non-lethal alternatives present themselves. Any use of sonic deterrents, adjusting mowing regimes and/or molehill removal will be a learning experience, with some trial and error, but still a worthwhile endeavour.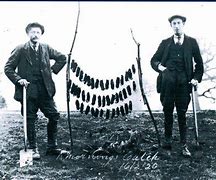 In the case of Bredfield, the Parish Council has agreed to end its contract with a 'Pest Controller', and cease the practice of trapping and killing moles on the village green. A small group of local residents (including a representative from the Parish Council) has been formed to find alternative, appropriate and non-lethal solutions that will help maintain the required appearance of the village green.
If you live in another village or town, where the council still employs someone to trap and kill moles, you might like to use the arguments and examples provided in this article, and bring about change.